Seeing Caitlin's creativity at work makes me happy.
Be sure to go
Leigh vs Laundry
to see more photos that are bound to make you happy.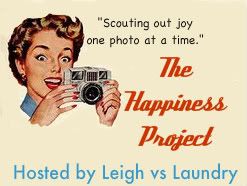 We finally saw the movie
Inception
this week. It was a great movie. There is so much going on in the movie that we will probably rent it again to see what we missed. I found the movie a little creepy. Basically the technology exsists that allows people to enter into another person's dreams and even plant ideas into their brains. Creepy concept for sure. I just think about how a lot of what was is in sci fi movies has actually occurred years later. I definitely hope dream invasion is not something that scientist are working on.
Dave and I enjoyed cuddling on the couch watching a movie we really wanted to see. We also had a lot of discussion about the movie after too.
This is date 43 out of 52 for us. Go to
Simply Modern Mom
to join in on the fun. Simply Mom is no longer posting weekly dates but I still want to finish the project.