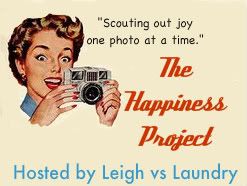 The kids entertaining themselves by drawing on their life sized cut outs make me happy.

Be sure to go
Leigh vs Laundry
to see more photos that are bound to make you happy.
For our date this week, we went to the Home Depot to pick out paint for our dining room and hall. Then on the weekend, we painted the dining room and hall. We painted all the walls, trim, and closet doors. Then we tore up and removed the carpet. We worked pretty much all day for two days. I know you are thinking what an awesome date! Can you hear the sarcasm? It wasn't our most fun date but we feel good that we got so much done. The room isn't not quite done but it is close. We need to clean the hardwood floor and finish the baseboards. When we are done, I'll post the before and afters. It wasn't all work, Dave and I did get to talk and catch up on some good tv and our dining room looks a million times better already.
Image from Fixitips.com
This is date 35 out of 52 for us. Go to
Simply Modern Mom
to join in on the fun.