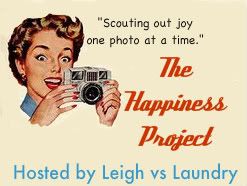 It may be shallow but my new shoes make me happy.

Be sure to go
Leigh vs Laundry
to see more photos that are bound to make you happy.
This week was a date weekend. We went to Chicago for my husband's cousins wedding without the kids. I could count the trip to the airport as a date since there was no children and we could listen to Howard Stern. Simple things make me happy.
I got up at 6 am the first morning. I was going to go to navy Pier by myself but Dave woke up and didn't want me going by myself. He was glad he got up because we had a great time exploring the pier and looking at the tall ships. There were not too many people down there at that time which was a bonus.
Fun mirror shots.
The city of Chicago was beautiful. We walked around for around 4 hours on Saturday. It was sad how sore our ankles were the next day. We had a blast seeing the city and people watching though.
We even got to do a little shopping.

The wedding was beautiful and so much fun. They had a photo booth and props. It was fun to take silly photos especially after several cocktails. Maybe I'll scan those later.
I was nervous about leaving the kids for almost 3 days. I had never been away more than 1 day. I knew that they would be fine with my parents and have many of their own adventures. I'm glad we took this trip. We had fun. I think it is important for us to still have adventures of our own too.
This is date 25 out of 52 for us. Go to
Simply Modern Mom
to join in on the fun.