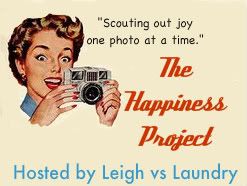 Davey and his friend were playing doctor. It involved healing each other with a cat mask and patriotic sunglasses. I love watching my kids play weird games with their friends.

Be sure to go
Leigh vs Laundry
to see more photos that are bound to make you happy.
We had a two part date this week. My in laws took both kids out for the day so we had an extra long date. We went hiking at a local mountain. We haven't been to it in a long time. We had a great time talking and enjoying the fresh air. The weather was incredible for November. We knew we needed to take advantage of the good weather while we have it. We also decided that we are out of hiking shape. We both were sore the next day.
The photo was taken at the tower at the top of the mountain.
Later that night, we went to our friends annual November Fest beer around the world party. We enjoyed many beers from many countries. I decided I like a good old American beer best. I'll take a Bud Light any day. We had a great time hanging out with friends and dancing to some old school rap. Kid free days are pretty rare. We enjoyed every minute.