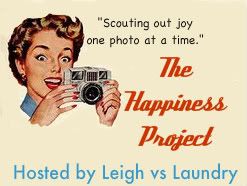 My own little Jesse and Buzz make me happy.

Be sure to go
Leigh vs Laundry
to see more photos that are bound to make you happy.
Our date last week was Christmas shopping. Yup you read that right. My husband likes to get shopping for the kids done early. I thought we would just scout out Toy R Us to figure out the kids' main gifts but we ended up buying a couple of things that were on sale. It was nice to be able to go out to a toy store to look around without having to tell the kids a gallazion times, "We are not buying anything today!" Dave and I got to play with light sabers and dress up in feathered boas. It was fun acting like a kid.