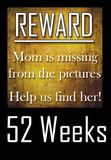 We took the kids to a local museum to see the dinosaur skeletons. We took this shot the life sized dinosaur on the way in. We had a good time but decided to wait to take Davey back. He has a hard time not touching all the glass.
Join the year long challenge of getting yourself in the photo at
Forever in Blue Jeans
. You won't regret it. This is 20/52 for me.