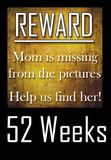 My daughter's preschool had a Mother's Day tea party. The kids sang us songs about moms being important. They were very cute. The kids then gave us presents (homemade bookmarks) and cards. The cards had sentences that the kids filled in. Here is what Caitlin's card said:
My mom looks pretty when:
she goes to her friends' parties.

My mom's favorite thing to do is:
spend time with me and my brother.

I love my mommy because:
she takes me to the kids museum.
I love this little girl so much!
Join the year long challenge of getting yourself in the photo at
Forever in Blue Jeans
. You won't regret it. This is 16/52 for me.
************************************************************************************
Also if you haven't voted yet could you please vote for my entry in
Simply Modern Mom's Mommy Moment's photo contest
. To vote you just have to leave a comment that you are voting for my entry #1. I'm not too proud to beg. Please! You can vote till May 16. One vote per person. Thanks so much in advance.
Here is my entry again. Caitlin is cuddling with my 9 month pregnant belly.