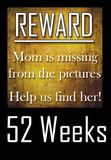 I don't know how this happened but this is the only photo of me from this week.

Flattering, huh? This is a good reminder to make an effort or these are the photos I'll get ;) Although this shot does capture a typical moment.
Note: Davey is stepping on my foot while trying to get me to fix his game.
Join the year long challenge of getting yourself in the photo at
Forever in Blue Jeans
. You won't regret it. This is 11/52 for me.