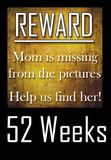 We took the kids to the theater last week. I decided to set the tripod up to take a family portrait before we left. I think the shots came out pretty good. Everyone is actually looking at the camera and smiling. Can't ask for much more.
The serious shot.
Forever in Blue Jeans
. You won't regret it. This is 7/52 for me.