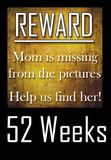 We were suppose to get a foot of snow today. So far we have only got a couple of inches. We went outside after dinner to enjoy the snow.
Snowball fight.
Our small snowmen. And yes Caitlin does have cat whiskers painted on her face. We had to find a way to entertain ourselves today.
Join the year long challenge of getting yourself in the photo at
Forever in Blue Jeans
. You won't regret it. This is 4/52 for me.