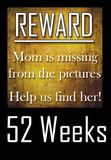 Last week, we had some one on one time with the kids. Dave took Caitlin to a program at the library and Davey and I stayed home and played. I forgot how nice it is to spend one on one time with them. There was no arguing and lots of hugs and kisses. We will have to do that again soon.
Join the year long challenge of getting yourself in the photo at
Forever in Blue Jeans
. You won't regret it. This is 5/52 for me.