I think it is time to stop doing the Then and Now Thursday posts. I was hoping it would catch on as a meme but it really has not. I think it required too much work with scanning old photos and such. I may post every now and then (like the play on words) but not weekly. Thanks to everyone who did take some time to play along. I appreciate it. I really do.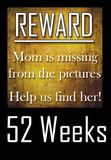 Now I think I'm starting to participate in
Forever in Blue Jeans
'
Where's Mom Challenge. The goal is take a photo of yourself with your kids once a week for 52 weeks. You know so that they know you were really around and capture some nice memories. I'm always behind the camera so this is a great meme for me to try.
My kids love to have dance parties in the living room. Here we all are busting a move.